Why bring your incentive trip to the British Virgin Islands (BVI)?
Are you ready to take your incentive trip to the next level of luxury? Look no further than the British Virgin Islands. With the allure of exclusivity, awe, and wonder, the British Virgin Islands is ideal for your incentive travel program and can deliver a once-in-a-lifetime experience for your qualifiers that will leave a lasting impression.
The U.S. and British Virgin Islands made our list of Top 20 Incentive Travel Destinations for 2023 after undergoing extensive renovations following hurricane Irma in 2017. The BVI in particular is best explored by boat and offers unique opportunities for your qualifiers to "island hop" and see over 60 separate landfalls as a local would.
When searching for the perfect property for your incentive trip, it is nearly impossible to pass up Rosewood Little Dix Bay, located on stunning Virgin Gorda. Rated as #2 in Best Resorts in the Caribbean and Atlantic by Conde Nast Travel 2022 Reader's Choice Awards, Little Dix Bay provides sophistication and preserves the natural environment at the heart of its design. With an unmatched level of refinement and seclusion, your group will soon see why it is long regarded as one of the world's most incredible getaways.
Rosewood Little Dix Bay offers a plethora of activities both on and off property, which can all be coordinated with your qualifiers' personal butlers. The resort sits on a private, half-mile crescent beach where guests can sit back and sip on a signature Painkiller rum cocktail, strike up a tennis or pickleball match, or pamper themselves at the spa. A unique opportunity Little Dix Bay provides complimentary is their local beach drops, where a boat captain will take guests to experience more remote, powder-white sand and stunning beaches.
President's Club Trip Activities
The Baths
Home to Virgin Gorda, The Baths are a natural wonder of the world, and will surely leave your qualifiers in awe. The large boulders, crystal-clear water, and pristine beaches are just a few of the sights to see at The Baths. Qualifiers will start their afternoon with a swim or snorkel at Devils Bay, then climb way through the caves to explore all the natural beauty.
After exploring this picturesque attraction, your qualifiers will stop for lunch and more sights from above at Top of The Baths, a perfect place to end their time at The Baths while seeing it from a new perspective.
Jost Van Dyke Catamaran Sail and Snorkel Adventure
A catamaran sail with snorkel stops is another great way for qualifiers to explore the beauty of BVI, however, the journey to Jost Van Dyke is only the beginning of the fun. While sailing around your qualifiers may notice some scenic spots like Norman Island, where Treasure Island was filmed, or Pirates of the Caribbean. The local guides will take your group to Norman Island as it is the best snorkel stop in the BVI, with three different caves to explore, stunning blue water, and an abundance of fish.
Upon arrival to Jost Van Dyke, your qualifiers will be greeted with turquoise waters and white sandy beaches, waiting for them to swim upon. With famous destinations like Soggy Dollar and Foxy's, qualifiers will soon see why sipping a Painkiller rum cocktail on the beach in Jost Van Dyke brings so much attraction.
Necker Island
A hot spot in the BVI, and for good reason! Your team will enjoy a smooth cruise in a glass-bottom motorboat to Necker Island, the exclusive home of six different species of Lemurs and over 250 Roseate and Caribbean Flamingos that were originally brought to the island by Sir Richard Branson for preservation.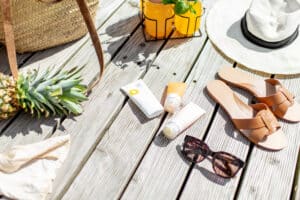 Welcome Gifts
There is just as much talent as there is beauty in the BVI. Local artists have unique options ready to leave an impact on your qualifiers.
Shopping locally has many benefits. It helps small businesses and saves you money on international shipping. Plus, it provides a gifting experience that is unique to the destination.
Beach destinations require some essentials, so start with the items qualifiers need. Beach bags, sun hats, waterproof phone cases, and water bottles are essential for a trip to the BVI, and they are sustainable items one can use time and time again.
Room Drops
The secret to a great room drop gift is also usefulness, especially when it is sourced locally. EC Soap Co. is a handmade and 100% natural artisan bath and body company located in the British Virgin Islands. A local spa kit with items such as body scrub, lotion, sunscreen, and mosquito repellant makes for a perfect gift one can use during their time in the BVI. The opportunity to specialize your products with custom logos and scents also adds a unique touch specific to your audience.
Consider sourcing items specific to your daily activity or evening event to add a personal touch. Think local food and beverage items one may have seen during their catamaran sail, Necker Island tour, or island-hopping adventure. The BVI has branded alcohol seen all throughout the island and would make a great gift for an in-room cocktail kit.
Gifting Experiences
Considering the remote nature of the BVIs, hosting a gifting experience can come at a very high cost if sourcing from a gifting vendor outside of the territory due to shipping and import costs. To alleviate the setup costs, Brightspot discovered that working with the existing boutique on the property is one of the most cost-effective ways of operating an in-person gifting experience and provides your qualifiers with the highest value products within budget.
Utilizing the on-property boutique is a turnkey experience that also allows your qualifiers the widest variety of options to choose from, as an outsourced gifting experience vendor may only be able to bring in sunglasses, sandals, or the like due to shipping costs.
A Virgin Island-specific experience for your qualifiers could be a signature hook bracelet fitting. These hook bracelets are significant to the Virgin Islands and symbolize that someone has visited the destination and leaves a little piece of their heart in the Virgin Islands. Qualifiers would participate in the bracelet fitting on their arrival day and receive their custom-fitted bracelet as their final evening room drop before departing the next day.
Lastly, qualifiers could immerse themselves in art with an artist at the welcome reception live painting a custom landscape of the resort, Virgin Gorda, the Baths, or a scene of your choosing while everyone mingles and dines. Surprise and delight your guests on the final evening with a special printed copy of the artwork painted from the welcome reception in their rooms as a keepsake and reminder of their once-in-a-lifetime experiences in the British Virgin Islands and send your top qualifier home with the original version.
Are You Ready to Start Planning?
Considering the uniqueness and stunning qualities of the BVI, the highest level of service at Rosewood Little Dix Bay, and the plethora of relaxing and exhilarating excursions available, the British Virgin Islands should be considered a frontrunner for your next incentive travel program. Our expertly trained personnel will guide you through the logistics of planning a Virgin Island program to ensure your group has a once-in-a-lifetime experience. Learn more about what we can do for you, or contact us today!