84% of Businesses Use Rewards
The most straightforward ROI on channel partner incentive programs proof is 84% of U.S. businesses use non-cash incentives according to the Incentive Federation. That adoption rate was validated in both of the two most recent studies, so the consistency increases the accuracy of the research. It is estimated U.S. businesses spend $176 billion on non-cash rewards. If the thundering herd of U.S. companies is investing in non-compensation rewards, it proves a widespread belief in their ROI.
48% Use Channel & Distributor Incentives
The same Incentive Federation study estimated that 48% of all companies use channel or distributor incentives. However, not all companies sell indirectly through channel partners. Some estimates say 75% of the world's commerce sells through partners, according to Forrester. If excluding the 25% that sell direct only, then the usage of channel incentives by those selling through 2-step distribution is much higher than 48%.
$24B Invested in Channel & Distributor Incentives
The Incentive Federation "market size" study estimated that $24,000,000,000 is spent on channel or distribution rewards annually in the U.S. alone. Increasingly, Brightspot is working with many organizations rewarding partners globally too. The ranking of the most popular award types was gift cards, award points, merchandise, and then incentive travel. With the challenges of motivating indirect sellers who cannot be supervised or commanded what to do, the investment in non-cash rewards shows that channel organizations are embracing the carrot without the stick approach. While the investment implies (but does not prove) an ROI on channel partner incentive programs, channel sellers risk a competitive weakness if they do not utilize a channel loyalty program.
Channel Partner ROI Case Study
The Incentive Research Foundation (IRF) conducted the best single study, proving ROI on reseller incentive programs, named "ROI Incentive Programs: A Case Study for Channel Sales Success."
To increase sales and grow market share, a Fortune 500 manufacturer selling through value-added resellers (VARs) formulated a new channel partner incentive program to respond to competition in the marketplace. IRF validated the math. The program results were:
Revenues increased by 32%
Market share increased by 30%
Net operating income increased to 19% of revenue
Additional non-financial results, or "soft benefits," (often called ROO – Return on Objectives) included:
30% of the VAR participants were first-time reward earners (showing new mindshare, loyalty, and adoption)
Program participant surveys yielded 87% "excellent" ratings
Turnover of key VARs decreased by 2% from the previous year, showing improved retention
The channel partner incentive program yielded the following ROI:
Incremental improvement: $3,934,700
Incremental costs: $3,186,900
Return on investment: $747,800
Return on investment: 23%
Soft Benefits Drive ROI too
Another IRF channel study named "Designing For Successes: Effective Design Patterns For Channel Programs" showed that productivity is as important as sales in generating the positive behaviors that lead to ROI. "Channel programs were traditionally established to do one thing: help push sales through the pipeline. However, in the modern era, smart marketers are using their incentives and rewards programs for a broader set of behaviors that drive performance. The top primary objectives for channel rewards and incentive programs were improving productivity (97%), increasing sales of specific product(s) (63%), increasing overall sales (62%), and gaining market share (59%). Interestingly two other leading behaviors that also registered significantly were gain mind share for non-exclusive sales channel (40%) and reward training (19%). All of these objectives show a movement away from solely the sales activity itself to behaviors that drive bottom-line success."
Top Performing Companies
The IRF published a fascinating "signature study" series on top-performing companies. They analyzed companies with:
High revenues upwards of $100+ million,
Good growth with greater than 5% revenue growth or stock price growth,
Excellent customer ratings with 90% customer retention or 90% customer satisfaction, and
Excellent employee ratings with 90% employee satisfaction ratings or 90% employee retention.
See the Top Performer Study infographic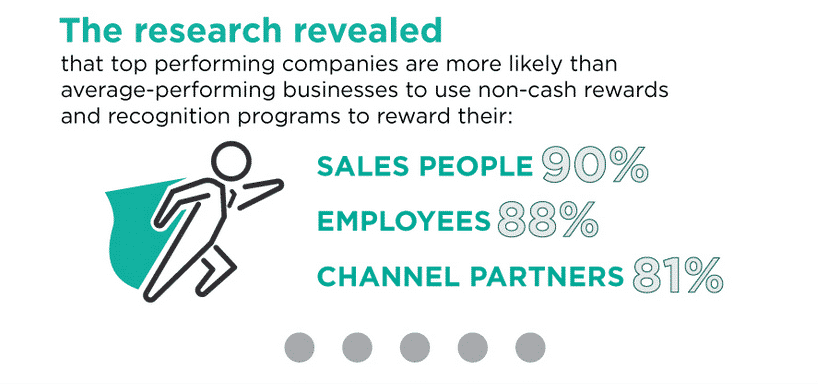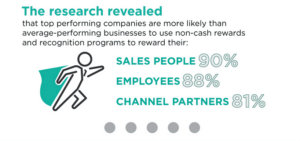 Top Performing Companies in Technology
Then, the IRF drilled deeper with vertical industry studies. If a reader dives deep into the research of the Study on Top Performing Technology Companies, several ROI and ROO golden nuggets can be found deep inside. Specifically, look into the underlying reference deck slides.
Slide 22 – top technology companies are more likely to use outside incentives agencies for help
Slide 47 – channel programs are tiered to allow awards other than a partner incentive trip (93% adoption)
Slide 54 – average non-cash reward value earned for channel incentive programs = $3,156 per salesperson
CIM Software Prevents ROI Erosion
A few years ago, Accenture published an excellent whitepaper, "Improving the ROI of Indirect Channel Incentives," that high-tech companies were investing 3-5% of revenues on indirect channel incentives, but that as much as 10% of channel partner incentives are overspent, or are generating an insufficient return on investment. Accenture identified the causes as the complexity of offers, rules, and terms; decentralization of program accounting; duplicative incentives; and infrastructure limitations, such as ad hoc collection, cleansing, and use of point-of-sale data and insufficient investment in analytics that are key to optimizing spend. Channel Incentive Management (CIM) software can strengthen program governance and reporting to eliminate overspending and increase ROI.
Training Incentives Add ROI
"Enablement is a hot topic!" Sales leaders have repeated that line for many years now. It stays hot because reps are constantly changing jobs, and companies are shifting roles, go-to-market strategies, and product complexity. "Reps sell what they know. If they don't know, they won't try."
More IRF research in "Incentivizing Salespeople To Participate In Training" reports that:
US organizations invest more in sales training than they do for any other employee group.
Selective incentives are an effective tool to encourage participation in training and earning certifications.
In a series of experiments, researchers found that frequent feedback combined with performance-contingent bonuses leads to improved learning and better overall performance.
Well-designed training and certification programs equip salespeople with the necessary skills and knowledge to boost performance and sales volume.
Online learning and micro-learning content can deliver enablement on a personalized basis, at their time of need.
Incentives are Self-Funding
The simplest justifications are often the best. Incentive programs pay for themselves. They only pay when sales are made. Incentive programs are "self-liquidating." Feel free to play around with some "what-if" scenarios with your channel partner incentive program budget using our handy budget calculator.
If you're looking for more bright ideas on how to make your channel partner incentive program the best it can be, download our channel partner rewards guide for step-by-step advice, tips & tricks, and current industry trends. Of course, you can always drop us a line for a no-strings-attached consultation of your current program or upcoming program.