How to Manage Hotel Room Block and Attrition
One of the most critical aspects of managing a conference or an incentive trip is managing the room block and attrition. Unexpected attrition charges can have a significant impact on a program budget.
Mismanaging room block and attrition for all-inclusive properties can be exceptionally costly.

Understanding Attrition

Hotels charge an attrition penalty if an event uses fewer guest room nights than initially reserved in the signed contract. Typically, your hotel contract will give you an attrition allowance where you can release rooms without penalty. This allowance is generally 10% – 20% at specific date intervals outlined in your contract.
There are three ways hotels might calculate your pick-up and potential attrition. It should be clearly spelled out in the contract, but if there are any questions, address these before signing the contract. If you have questions, send them to the hotel in writing so you have a confirmation back in writing.
• Cumulative – This means that your room pick-up is based on your total pick-up for all dates of your event. For example, if you have a block of 50 rooms per night for a four-night event, this counts as a cumulative 200 room night block. If you have a 20% attrition allowance, you can drop 40 room nights without penalty. If you fall short of picking up 160 room nights, then you will pay an attrition penalty on the difference. Ideally, you also want to negotiate that the hotel gives you credit for any pre and post extensions you might have. If you fall short of your pick-up during group dates, including those pre and post nights might help you reach your required minimum room pick-up.
• Per Night – Room pick-up is calculated per night (also can be listed as per day). So, if you have 50 rooms per night blocked, you are allowed your attrition on that number per night. If you have a 20% attrition allowance, then you can drop 10 rooms per night. If you fall short of picking up 40 rooms for that night, then you will pay an attrition penalty on the difference. Some hotels are adding clauses that if they reach 90-95% occupancy, later, you will not pay an attrition penalty if you fall short of your minimum pick-up for that night. A request for an audit or an occupancy report from the hotel must happen to verify what the hotel's occupancy was on the nights of your program.
• Revenue – Your room pick-up is based on the hotel calculating their expected room revenue on your contracted block by multiplying the number of rooms per category by the respective rate for each category. Typically, for this calculation, you are allowed 15% attrition. For 15% attrition, you would need to meet at least 85% of the anticipated revenue requirement. In this method, if you have to release rooms, it is wise to release the rooms at the lowest rate category so that you are keeping the higher rate rooms to help meet your revenue minimum.
Ways to Mitigate Attrition

If you are confident you are not going to "pick up" your block, advise the hotel immediately. Any opportunity that they might have to resell those rooms will work to your advantage. Be sure there is a resell clause in your contract! Add attrition dates into your calendar or project timeline, so you do not miss the opportunity to release rooms without penalty.
There are ways that attrition penalties can be mitigated or avoided altogether. Below are some suggestions for managing your room block and reducing or omitting attrition. The methods differ based on how room reservations are made.
A) Attendees make their room reservation
For a large conference or meeting where the attendees make their room reservation, the most common method is via a Passkey link in your conference registration. This link automatically directs the guest to the hotel's reservation system and into your contracted room block. You should have access to real-time reporting to see pick up. The hotel reservation manager will provide you with the Passkey link.
• History plays a significant factor in being able to manage your room block on conferences where attendees make their room reservations. The contracted block should reflect what has been picked up in previous years plus a small increase for anticipated growth. A well-known keynote speaker, a new product unveiled, course selection and content, as well as destination, can all play a role in conference attendance. Having a good marketing plan in place to promote all of these is essential to hitting the anticipated registration numbers and room block.
• Periodically cross-check the rooming list report from the hotel against your registration report to see who has not reserved a room yet. It is helpful to include the home city in that report as some may not need rooms if they live locally. Send a reminder email out to those that have not reserved a room. Include the Passkey link and the deadline to ensure they get the group rate.
• One week to 10 days out, provide the hotel with a report of those attendees that you have determined have not made room reservations. Have the hotel cross-check their system for those names. Occasionally, you will have people that reserved rooms outside your block, and you want to be sure you get credit for those rooms.
• Often for large conferences, rooms for Sponsors and Exhibitors are not considered or calculated into the contracted room block. If you are falling short of your block, send the Passkey link to your vendors offering the group rate at your host hotel.
• For huge conferences, some attendees will "go around the block." This is industry slang that refers to attendees staying at hotels that offer a less expensive rate than the conference hotel or one where they are a member of a loyalty program and get points. In some instances, companies will charge a higher conference rate to those individuals that do not stay at the host hotel.
'Going around the block' is common for attendees making their reservations, especially in Las Vegas, where there are many options.

B) Rooming Lists
Typically, rooming lists are due 45 -21 days prior to the group arrival day. This due date will be outlined in your hotel contract. Check with the CSM or Group Rooms Manager to confirm if they have a specific template for the rooming list. This will make the download cleaner and easier, with less opportunity for errors.
• If you are not able to submit a rooming list by the due date, you might be able to send a letter guaranteeing that you will pick up the block. However, only do this if you know you will pick up the block! You can also ask for an extension on the rooming list due date; advising the hotel that you will be providing a more complete list, with fewer updates and changes.
• Always request for pre and post nights to be included in your total numbers. The hotel is recognizing this revenue because your group is in-house, and you should be given credit for it. Even if this request was turned down in the contracting stage, ask again!
• For international programs where attendees might arrive very early in the morning, consider blocking rooms the night prior, so they can check-in when they arrive at the hotel and do not have to wait until an afternoon check-in time. You could do the same for attendees that might have evening departures and block the room for that day to allow them to stay in their room until their departure. This gives you some value while making your guests more comfortable!
• If your pick-up is being calculated on revenue, ask the hotel if you can upgrade to a higher category of room type or to suites, which would be at a higher rate and help you to reach your minimum revenue requirement.
Tips for Making the Most of Expected Attrition
 If you are significantly under your room block due to unforeseen circumstances and likely paying high attrition penalties, below are a few suggestions to present to the hotel:
a. Add a Small Meeting – Can you use these unconsumed rooms on another date? Do you have a small meeting that you could book at this hotel and use these rooms? If the hotel is willing to do this, it is typically going to be within 60-90 days so that the revenue can be realized in the same quarter.
b. Rebook Again for Next  Year – What consideration will the hotel (or the hotel brand) give you if you rebook this same program with them for the following year or year after?
c. Get Credit for Extra F&B – If you exceed your food and beverage minimum, will the hotel give you credit towards your room revenue for the excess overage? If the answer is yes, then add meals that might not have been initially provided; add items to your existing menus to enhance them, add a food item as a room drop. Getting some value for the monies to be paid is much better than just writing a check!
d. Spend on Other Stuff – Are there areas of your program that you can help the hotel increase its revenue in other areas?
– If they own the retail shops, use items in their shops for room gifts
– Provide a gift card to be used in their retail shops
– Provide a gift card for the Spa
– Move a dine-around from off property to the hotel/resort restaurants
– Reduce ROH rooms and ask for suite upgrades to increase revenue
e. Ask for Forgiveness – If you have a good relationship with the hotel (or a reliable partner like Brightspot who works with the hotel for other clients), ask if they can waive the attrition or at least a portion. You will be surprised to find that some hotels will be merciful (especially when they can resell those rooms at higher rates to leisure travelers or transient business customers.)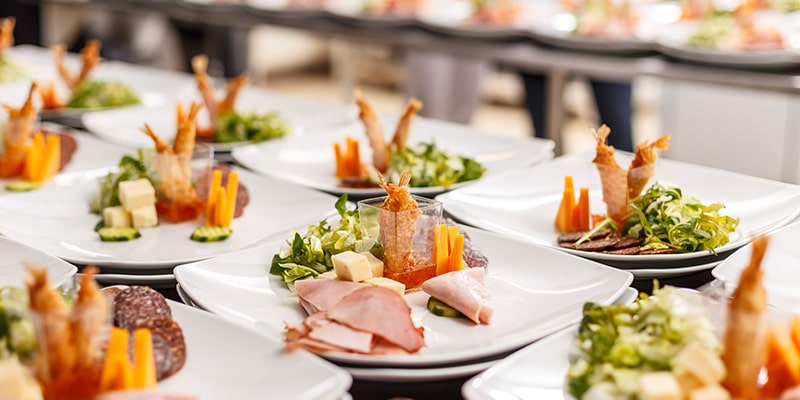 Get creative with avoiding attrition penalties. Ask the hotel if you can credit high-dollar food and beverage options towards room revenue if you're under your room block.

At Brightspot, we pride ourselves on negotiating the best possible attrition clauses for our clients. Having tried-and-true tools and processes in place help us effectively manage room blocks by leveraging our relationships with vendors to minimize penalties. We're always thinking outside the box on how we can creatively bring value to our client's programs!
Head over to our Events page for more details on how we can bring bright ideas to your next meeting or incentive trip.