Cost of an Incentive Travel Agency
Whether you are a corporate meeting manager tasked with planning the annual President's Club trip or a sales VP looking to implement an incentive trip for the first time, it's very likely you are asking one simple question, "how much does it cost to hire an incentive travel company?" The answer to this question is not easy to find, so here is an overview of the benefits, typical fee models, pros and cons of those models, additional services to consider, and cost-saving opportunities of hiring the expertise of an incentive travel company.
Benefits of an Incentive Travel Company
Incentive travel companies bring many benefits as what they do day in and day out is literally in their name! They are experts in the fields of meetings, special events, and incentive travel logistics and have tried and true processes in place that have been tested against nearly every situation in the book to ensure your program executes without a hitch. The list of benefits could go on and on, but a quick summary of a few key areas is below:
Destination Knowledge – Incentive planners are constantly staying up to date with the new and upcoming destinations! Browse the top 20 incentive travel destinations for our favorite ideas.
Industry Partners and Relationships – Strong relationships with large hotel brands and their  National Sales Office teams (NSOs) give extra benefits, negotiating favors, and buying power.
Industry Certifications and Expertise – Qualified incentive planners will have certifications ranging from Certified Meeting Professional (CMP), Incentive Professional (IP), Certified Incentive Specialist (CIS), Certified Incentive Travel Professional (CITP), and more! These certifications guarantee deep expertise in all facets of incentive travel.
Risk Management and Avoidance – In this day and age, it is crucial you partner with someone who can provide solutions and risk management plans for a variety of situations.
Time Savers – Incentive planners do the heavy lifting and keep you out of the weeds by taking over the day-to-day communication with the hotel and vendors and report back to you with consolidated information to make the next steps and decisions quick and easy. Because it is their niche, they can do the work in half the time and spare you the learning curve.
Flexible Contracting and Deposit Schedules – Good partners will be malleable to work with your accounting and procurements processes.
Be sure to check out how to hire an incentive travel company for more insight into all the benefits a dedicated incentive travel partner provides.
Incentive Travel Fee Alternatives
So, what are the fee structures when working with an incentive travel company? Several models are used in the incentive industry.
Hourly Rate Model
An hourly fee for incentive travel planning is a flexible pay-as-you-go contracting option with rates ranging from $50 – $100 per hour for an individual contractor to $75-$150 for an agency planner, depending on experience and expertise. An incentive agency offers more depth of talent, including support staff and experts in special event planning, catering, air ticketing, legal, budgeting, web development, registration, onsite logistics, and current trends.  Hourly rates are multiplied by the actual hours and may be used for partial planning services to full-service planning from start to finish.
Per Person Model
This has been the go-to model for group tours and travel packages in other travel sectors and arguably is the "traditional" model of the incentive industry. This fixed package cost is calculated based on a set price per person multiplied by the number of attendees. Based on the latest study by the Incentive Research Foundation (IRF), an average incentive trip costs roughly $5,193 per person. Check out this post on the average cost of an incentive trip for further details on how they came up with that number.
Percentage Fee Model
The most common fee structure for incentive travel planning and corporate meeting planning is 15-20% of all program costs. This industry-standard fee is applied to all trip costs, including airfare, accommodations, food & beverage events, activities,  A/V, and more, which are passed through directly with no additional markup.
Fixed Dollar Fee Model
A fixed, flat planning fee is rising in popularity with large corporate clients and is based on the size, length, and location of the incentive trip. The incentive agency evaluates the destination, number of travelers, number of days/nights, events, activities, and other inclusions to estimate their total labor, and then the quoted program management fee is set from the beginning.
Pros and Cons of Incentive Fee Alternatives

Deciphering between these very different models can be confusing at first. There are pros and cons to consider before entering into an agreement based on the complexities of your program. The must-knows of each model can help guide you behind the scenes of what to expect when working with these different pricing options.
For the hourly rate model, the pros are that the incentive company quotes estimated hours upfront, so you know the timeline and fees to expect. With this model, you should be able to frequently request an hour's report to have a continuous understanding of the project's status and the percentage of hours used. This works well for limited-service events where you may want to hire the incentive travel company for only portions of the event planning needs. The cons of this model are the challenge to transparently track the hours worked as you are essentially relying on "scout's honor." Also, the scope of the project can easily be underestimated, or actual hours can increase from project complications, causing potential fee increases before completion of the project.
For the per person model, once the trip package cost per person is established, it is the incentive travel company's responsibility to manage the entire program within the budget parameters. This usually works well for groups of 20 – 100 people and larger trips with a predictable schedule. Many program costs are known as "fixed costs" in a budget, for example, entertainment for a welcome evening, décor, A/V, etc. All these program elements will have the same cost regardless of your program's attendance.  For smaller programs, rolling all these costs into one package cost is usually an easier investment for some companies to approve rather than getting bogged down in a line by line budget. The cons of this model occur when executives frequently change the events, menus, entertainment, activities, or other elements when the budget was preset for hotel, food, and activities.  If a company can trust the expertise of the incentive planner to deliver the best trip for their budget dollar, the package price per person is a very efficient model for all parties.
For the percentage-based model, the pros are that the event costs will be passed-through allowing you high visibility into the budget. This means you will pay what the incentive company is paying and will not incur additional markups on top of the net costs for program elements. This model works well for large incentive travel groups with variable plans because as the overall scope and cost of the program adjusts; the percentage fee fairly adjusts up or down with the changing workload for the planners. The cons of this model are that as the program scope grows, so does the management fee making it difficult to predict and manage the total budget or get approval as the fee adjusts to the scope creep over the lifecycle of the program.
For the fixed fee model, the biggest pro is that you know what you are paying upfront with no fluctuation, as long as the scope of the program remains unchanged. The cons of this model are that it hinders your ability to grow and expand the program in terms of inclusions since the fee will change as the scope of the project changes. If you plan on potentially adding in or changing different elements later down the line, this may not be the best route to go.
| | | |
| --- | --- | --- |
| Model | Pros | Cons |
| Hourly | Hire only the services needed; Good for limited-service events | Difficult to manage actual hours |
| Per Person | Guaranteed costs; Entire trip managed within budget; Good for small groups or large trips with simple schedule | Not as flexible if plans change a lot; Usually less visibility to budget details |
| Percentage | Pass-through costs; High visibility to budget; Good for large groups with frequent changes | Scope increase = fee increase |
| Fixed Fee | Guaranteed fee | Less flexible for scope change |
Additional Services to Consider
Incentive travel companies also offer a wide range of additional services that can add value and save time with one-stop services, such as graphic design for event theming (usually charged per hour), copywriting with destination knowledge, and collateral printing  (usually charged per piece). These additional services can help elevate the look and feel of your trip. They also often offer website development and registration support, which are invaluable when it comes to creating a seamless registration process for your winners. Many agencies offer a dedicated phone line and email address for each program to ensure winners enjoy excellent customer service and response time. This is their first impression of the trip and should not only be memorable, but seamless!
Registration websites can also be paired with a custom mobile app to take the attendee's journey to the next level by incorporating personalized agendas, attendee names (and faces), social interactions, and even gamification. Brightspot's Unite registration platform handles everything on the registration side of things and is managed by our in-house IT team to ensure no gaps in service.
Another helpful service some incentive companies offer is air management with an expert air team that can ensure ease of booking flights, flight monitoring, and on-call customer service during travel days to allow quick and easy access for attendees who may experience issues. Lastly, incentive travel companies often have great access to help you source local products or develop a VIP gifting experience for premium products such as sunglasses, sandals, or speakers (see ideas here).
Incentive Travel Cost Savings
Now for the most important part, how can an incentive planner save money? At Brightspot, we strive to achieve a zero net cost by ensuring the savings we achieve for your trip offset the planning fees. Zero net cost is essentially the understanding that the 15% incentive travel company fee is offset by 15% trip savings making the investment in adding on a partner an easy sell for your internal stakeholders. The first savings start with the Sourcing team, who use their expertise to research, locate, and contract the highest quality incentive-level properties while negotiating the best rates and concessions to offer you an initial cost savings of at least 10%. The Operations team then takes the wheel using their extensive experience and industry best practices learned from past programs to continue to bring down your bottom line.
From hotel and DMC negotiations to ganging menus, to master account discounts and rebates, the incentive planning team makes financial stewardship a top priority! Brightspot even provides a compilation of cost savings in the program wrap-up, so you have the facts, numbers, and details to justify the inclusion of helpful services in next year's program.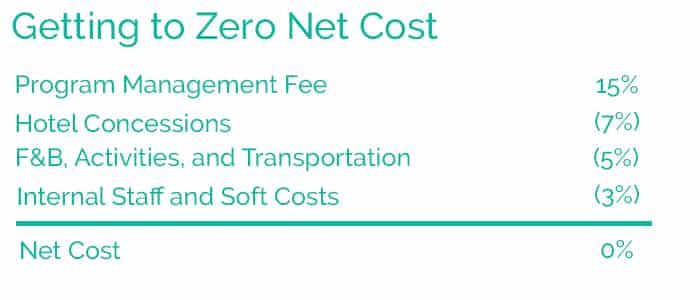 In closing, the investment of an incentive travel company offers many benefits that elevate the incentive travel experience and save considerable time – while also saving you money! We can guarantee the value will easily outweigh the initial investment. Interested in learning more? Take a stab at putting your program information in the incentive travel calculator for a little more insight into an estimated investment. We would love the opportunity to put together initial ideas and showcase how our creativity and knowledge will make your job easier and make your trip, meeting, or event better. Drop us a line for a no-obligation chat on how we can make your incentive trip the bright spot of your company!