Transforming an In-Person Sales Kickoff into a Virtual Meeting
March 13, 2020 is the date that changed the world forever. The U.S. President declared a national emergency due to the COVID-19 pandemic and imposed strict international travel restrictions. Most travel and in-person business came to a screeching halt as the country went into lockdown or shelter-in-place. Employees and businesses shifted from an office environment to a virtual setting via platforms, such as Zoom and Microsoft Teams. Face-to-face events, conferences, and meetings were postponed or cancelled for the near future. Due to the pandemic, subsequent quarantine, and travel restrictions, our company shifted our mindset and developed new product offerings for our clients in the form of virtual events and hybrid meetings.
One important client of Brightspot's hosts an annual Sales Kickoff, which brings together 200-400 of their sales associates to attend an in-person conference. The purpose of the conference is to bring the Enterprise sales associates together to network, announce new products, provide updates from leadership, provide sales training, and recognize those that achieve their goals.
To continue the momentum of previous Sales Kickoffs, our client wanted to conduct a sales conference in 2021 with its entire salesforce. It was determined that hosting a face-to-face conference would be challenging due to limited travel and event capacity limits. Instead of postponing or cancelling the conference, Brightspot recommended that our client shifted to a virtual Sales Kickoff. To execute a successful virtual event, our team was tasked with developing a strategy that enhanced meeting design, optimized the attendee's experience, and increased attendee engagement.
Virtual Event Platform and AV Partner
Brightspot researched and analyzed different virtual event platforms and narrowed down the best option for our client's needs and budget. There are hundreds of virtual event platforms that have saturated the market during the pandemic. It took time and resources to complete demos with the top platforms to learn the best tools for audience engagement and user experience. For this virtual sales kickoff transformation, Bizzabo was Brightspot's preferred platform for their engagement tools, reporting, and ease of setup.
Our team partnered with Bright AV, a technical production company that is well-versed and experienced in running virtual events, so our team could focus on logistics. They executed over 65 virtual events in 2020!
A virtual conference is not just another Zoom call or GoToWebinar, it is an elevated online experience with riveting content. A virtual event should be treated as a television show with high broadcast value. To guarantee the highest production quality, a strong production partner is warranted. The production partner will have the equipment and staff needed to manage the virtual conference, such as, an LED wall, stage, cameras, speakers, switchers, laptops, etc. Visually stimulating graphics and videos should be incorporated into the live stream. The final virtual event is a delicate dance between AV assets to produce a highly engaging event.
For virtual events, we do not recommend utilizing the same agenda and format from a previous in-person conference. Whereas a three-day in-person conference comprised of a daily general session, keynote speaker session, multiple breakouts, evening events, and meals would suffice, this does not translate to a virtual conference. Virtual conferences are recommended to be shorter in length; from one to two half days and no more than four to five hours per day.
Sessions should be shorter in length, from 30-45 minutes with breaks in between. Attendees have shorter attention spans when viewing a screen for several hours. Our client had the executive leadership team speak in 5, 10, or 15-minute segments keeping the content short and concise.
Don't forget to have fun! Breaks should have entertainment or fun engaging elements like a virtual photo booth with Pixilated…
…or whiteboard doodling through Piccles!
We hired an emcee that also provided entertainment, such as, juggling. We also considered hiring a mentalist for a social hour.
For our client's Sales Kickoff, we recommended filming all sessions in a hotel ballroom to mitigate any internet bandwidth issues from a production standpoint. Hotels have ample infrastructure for internet and power to ensure there are no outages. Also, since our client's leaders live all over the country it was easier for everyone to fly into Hyatt Regency DFW as a central meeting point.
Virtual events are a newer phenomenon, and many presenters are not comfortable presenting to a blinking camera red light with no audience to cheer them on. There also needs to be someone seamlessly transitioning between speakers and breaks. To minimize the risk of presenter issues and choppy content, it is recommended to provide script writing services and public speaking training for the presenters. It is also recommended to hire a virtual event emcee, like Jeff Civillico, who can keep attendees engaged, provide the seamless transition between speakers, and help jump in to cover any issues or errors made during the live broadcast. Another best practice is to pre-record the sessions, so the presenters can do several takes of their presentation.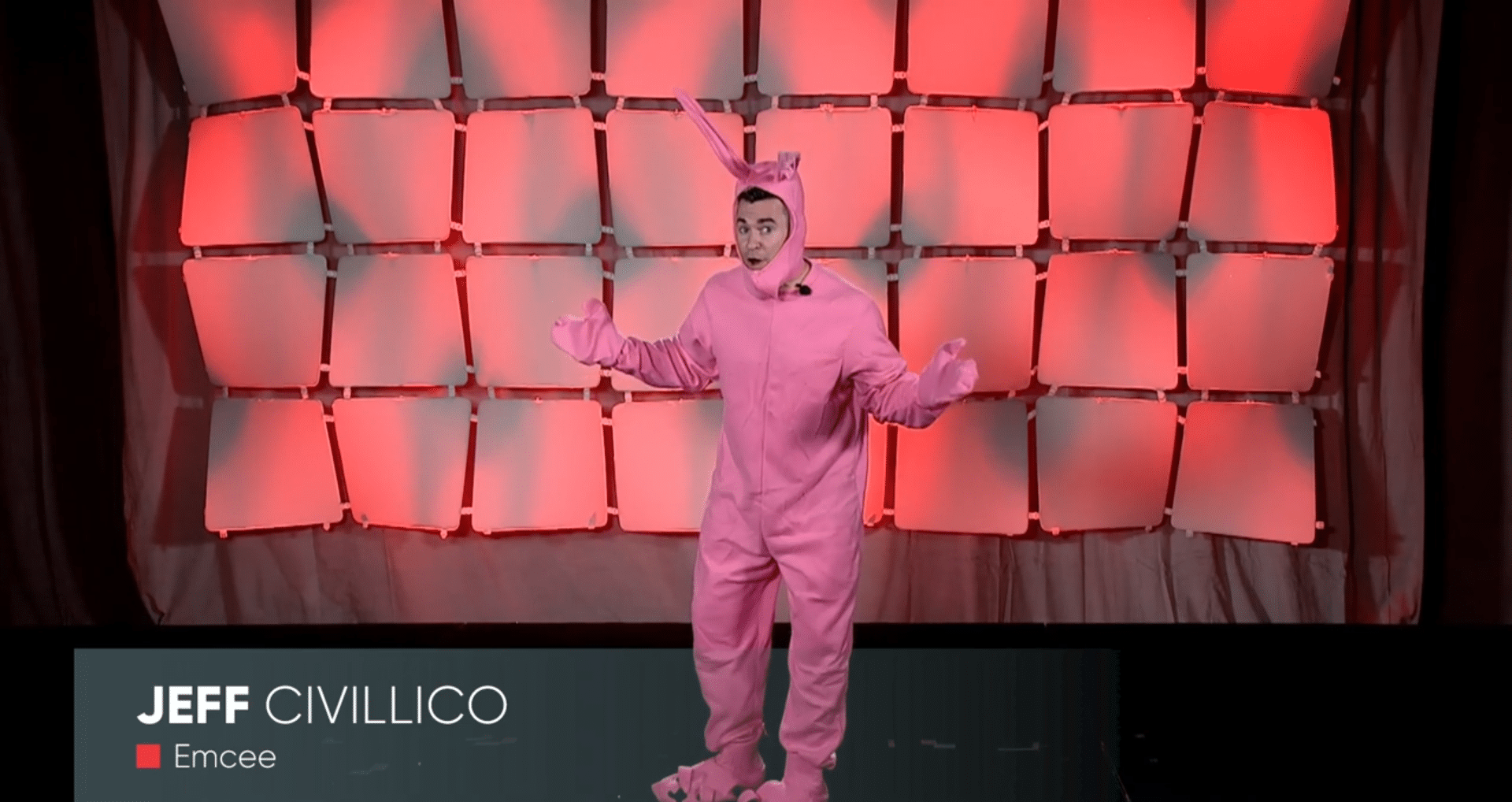 Another important element to consider when planning a virtual event is engagement. Sending pre-event email communications and swag bags of gifts to build excitement for the conference is key. Also, incorporating gamification for salespeople will create friendly competition.
Since the broadcast is only one-way communication and attendees are not on camera, different features of engagement are critical, such as social chat, social Q&A, polls, and more. There is so substitution for face-to-face meetings, so virtual events must incorporate fun elements to optimize the attendee experience.
Virtual Conference Production
Let us review the timeline for this client's Sales Kickoff that was broadcasted early February 2021. Four months prior to the program, a production partner was selected and joined the planning calls. A virtual event platform was vetted, selected, and tested. The pre-recordings were scheduled and finalized. Thorough research on an experienced emcee and riveting keynote speaker was conducted and final selections were made.
Three months prior to the program, the producer and production team roles were defined and solidified, the meeting agenda was finalized, and speakers outlined. It was decided which presenters would be live or pre-recorded with a live Q&A component, typically called "simulive". A presenter kickoff call was set up to educate the presenters on this new event format and advising them that content must be finalized much earlier than an in-person event.
The operations team, the clients, and graphic designers collaborated and worked on concepting for creative elements and graphics, such as a PowerPoint template, broadcast graphics, animated introductions, lower thirds, etc. The clients worked on script writing, as it was paramount to the program's success. Any virtual speakers that were unable to travel conducted a virtual technical test check to ensure their video, camera, audio, and background were conducive to recording remotely.
Two months prior to the virtual Sales Kickoff, the script was finalized, the agenda and run of show were solidified, and all assets (presentations, videos, music) were sent to the production team. Another call with the presenters reviewed the status of their content, speaker notes, presentation, and scheduled rehearsals. Several promotional items for pre-conference gift boxes were sourced, vetted, ordered, and shipped to each attendee pre-event. The engagement strategy was finalized, outlining which features would be used during each session.
Six weeks prior to the program, the attendees received a save the date and a month out the registration website was launched. Once all attendees were registered, weekly teaser emails were sent leading up to the conference to build excitement for the program. The emails included the announcement of the speakers, the final agenda sessions, tech check reminders, and finally the surprise keynote speaker.
Two weeks prior to the program, all attendees received their event boxes of promotional items and joined an all hands call to discuss the purpose of the conference, tease some highlights, and review any technical questions or issues.
The week of the program, the production team, event team, clients, presenters, and stakeholders all traveled to the hotel. All virtual and in-person sessions were pre-recorded by the production team. Final email reminders were sent to attendees enticing them to login to participate in gamification to earn points.
Broadcast day arrived and all plans were put into place to ensure a successful virtual event. Onsite event team members were standing by to assist the attendees with any technical issues logging into the platform. The production team orchestrated a magnificent live broadcast incorporating the live elements, graphics, and pre-recorded sessions into a seamless viewing experience for attendees. From the attendee's perspective, the entire conference was live with engaging content and presenters.
Post event, all sessions were posted on demand for viewers. Post event data and analytics were pulled and sent to the client, and a post event survey was emailed to all attendees. Time is of the essence when planning a virtual event and communication is key to implementing this plan.
Is Converting a Meeting into a Virtual Event Worth it?
There were many value-adds to consider when our client shifted their event strategy to a virtual Sales Kickoff in 2021. There was the opportunity to reach a larger, broader audience.  By going virtual, the kickoff was more accessible and convenient for attendees to view from the comfort of their home on any screen (phone, tablet, laptop). It was easier to spread the company messaging and branding together during a virtual conference. Even post event, communications and messaging were impactful through on-demand content.
With a virtual event, it is easier to track and gain insights into attendee behaviors since they log in and out of the platform and sessions. Virtual platforms provide robust data and better metrics through analytics and reporting. Engagement can also be measured by pulling chat, Q&A, and polling reports and reviewing the gamification leaderboard. These detailed analytics helped assess the ROI of the event and the impact of the content.
The most important value that virtual events provide is a decrease in overall investment and budget savings. Face-to-face conferences have many tangible costs, such as, hotel guestrooms, meeting space, food and beverage, flights, printed collateral, mobile apps, etc. With virtual conferences, there are still expenses such as the virtual platform, a highly skilled production team, and graphics design, but overall, the costs decrease significantly.
Yes! Another Successful Virtual Meeting
Designing a virtual and hybrid event strategy to enhance virtual event design and engage attendees was pivotal for our client. For our client's virtual Sales Kickoff, success was measured by several factors. The most important factor was attendee satisfaction which was measured by a post event survey. The event was well received, and attendees appreciated the clear and concise content, leadership updates, riveting keynote speaker, and high production value.
Another factor that was used to measure the success of the conference was the attendee's engagement via analytics and reporting. We were able to see what percentage of attendees logged into the system and stayed logged in for the duration of the day. We were able to pull chat and Q&A reports to determine how engaged the attendees were. We had over 4400 chats for 500 attendees!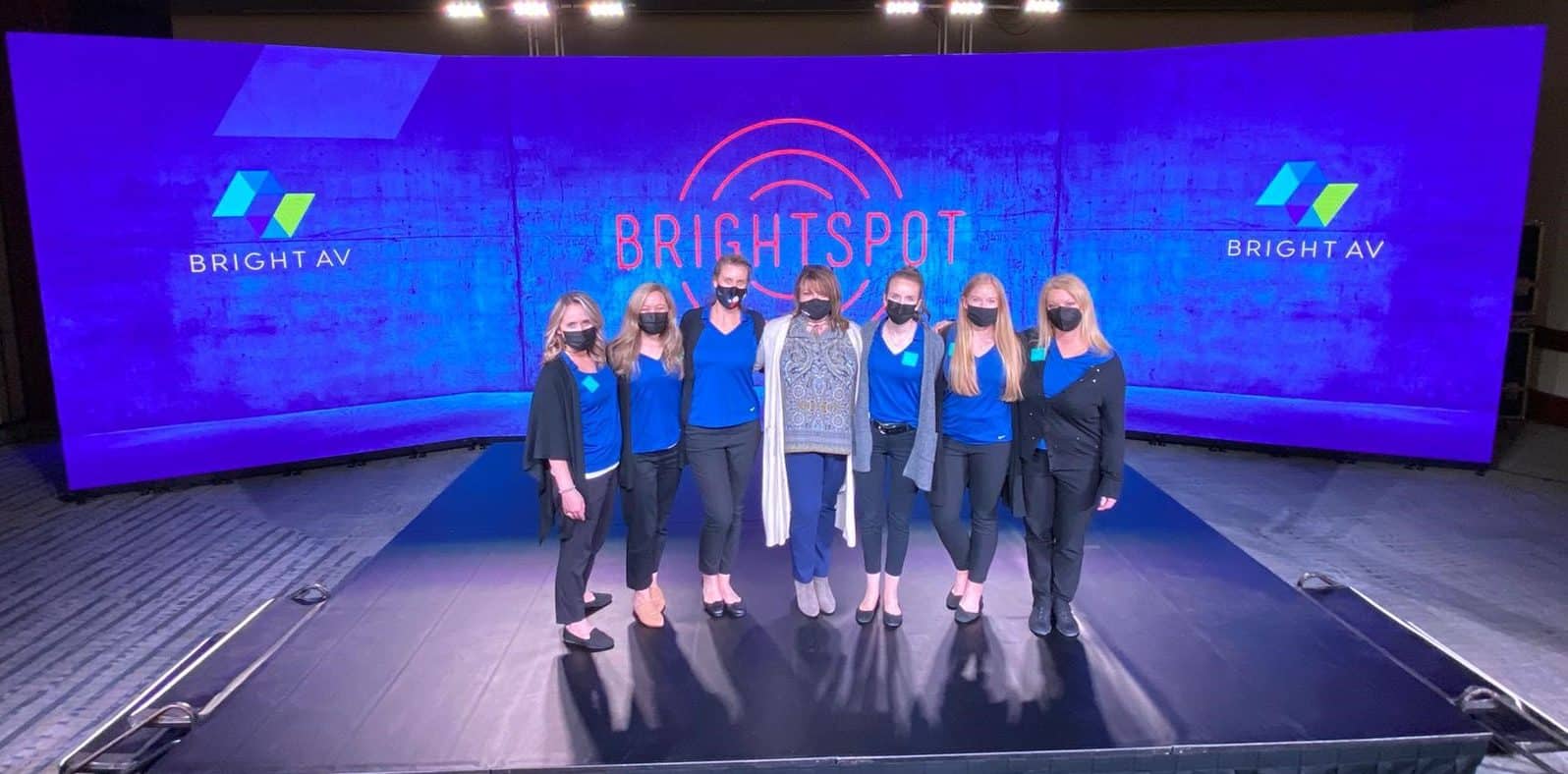 All in all, we stepped up to the challenge and executed an excellent virtual sales kickoff with our clients and it was truly a team effort! We recommend hiring strategic event and production partners to optimize the attendee experience, increase engagement, and implement ideal meeting design for your next virtual or hybrid meeting. Feel free to drop us a line and we can get started building your one-of-a-kind virtual meeting!
Brightspot recently hosted a webinar with Michael Arp of Bright AV that showcased the process of transforming an in-person Sales Kickoff into a virtual meeting. Watch the recording below and sneak a peek at the elevated production of partnering with a professional AV company.